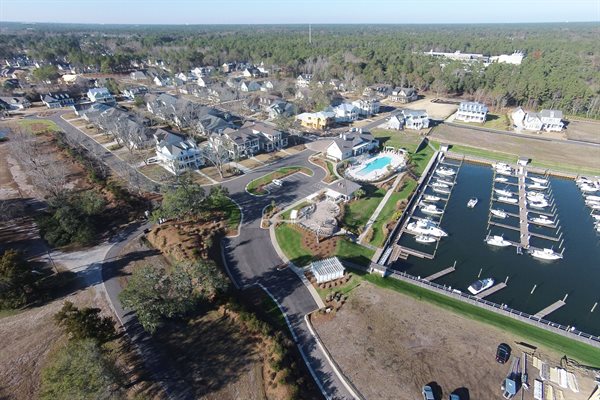 Helmsport Marina & Subdivision
Location: New Hanover County, NC
Project Overview: In 2013, LMG began work with the developer to plan a residential marina that could be successfully permitted based on the various water quality and natural resource conditions present at the site. Early on, meetings were held with federal, state, and local agencies to discuss design parameters that would be beneficial to the project as well as the environment. Delineations of 404 and coastal wetlands were performed and approved prior to surveying. This produced an accurate planning base map for the marina and subdivision layout. Impacts to wetlands were avoided where possible and minimized where they were necessary. As mitigation for the marsh fringe impacts, an area suitable for coastal wetland restoration was identified where an old upland berm through the marsh was removed, graded to intertidal contours and planted with Spartina alterniflora. Yearly monitoring of that planted area is ongoing with reports submitted to the Corps of Engineers. Environmental approvals that were received for the project included a CAMA Major Development Permit from the NC Division of Coastal Management, a Corps of Engineers General Permit 291 and a 401 Water Quality Certification from the NC Division of Water Quality.
---