Long Leaf Pine History
Long leaf Pine (Pinus palustris) was once the dominant tree species stretching over a vast 93-million-acre territory ranging from the tidewater region of Virginia to south Florida and west to Texas. Its lumber and resin-based products helped make America what it is today, but due to it seemingly endless supply of resources, development, and fire suppression its range shrank to an alarming 3-million-acres, equating to a 97% loss of habitat. Today there are numerous state and federal efforts and programs aimed at increasing that number to 8-million-acres, and this number will not be achieved without the involvement of private landowners. The Long Leaf Pine ecosystem is home to hundreds of species of plants and animals, many are found only in this ecosystem and sadly due to the current state of the ecosystem several species of plants and animals that are found here are either state or federally protected. LMG can assist landowners in developing functional management plans for properties with threatened and endangered species to best ensure the health and safety of the specie and that the most use is being derived from the land.
Economic Incentives/Cost Share Programs
For landowners with forested lands there are several programs that offer either economic incentives through tax breaks or direct funds for managing or restoring Long Leaf Pine in the Southeast. The most widely used program is through the
US Department of Agriculture's Natural Resource Conservation Service's Environmental Quality Incentives Program (EQIP)
, which is funded through the Farm Bill. Under EQIP landowners can seek to enroll their property in a variety of incentives like prescribed burning or groundcover replanting.
Additionally, for landowners with interest in restoring their lands for endangered species there are several state and federal programs, contact LMG for more information regarding specific program details.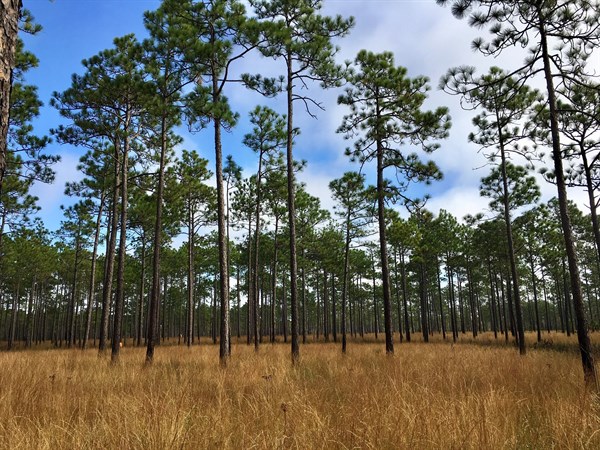 How We Can Help
LMG is experienced in helping clients through the process of applying for funding through EQIP to aid in restoration projects that range from replanting Long Leaf Pine to creating early successional habitat for game species such as Northern Bobwhite Quail under the Forest Stand Improvement section of EQIP. LMG can help you tailor your forest management plan to achieve your desired management goals. Call or click to speak with one of our knowledgeable professionals today!
910-452-0001 / www.LMGroup.net